New Release & Review: Relentless by Tera Lynn Childs and Tracy Deebs
Review of the first book in The Hero Agenda series is also there. Don't read Relentless as it is second book but it starts off where the first book ends.

Title: Powerless
Authors: Tera Lynn Childs and Tracy Deebs
Series: The Hero Agenda
Synopsis
Kenna is tired of being "normal." The only thing special about her is that she's isn't special at all. Which is frustrating when you're constantly surrounded by superheroes. Her best friend, her ex-boyfriend, practically everyone she knows has some talent or power. Sure, Kenna's smart and independent, but as an ordinary girl in an extraordinary world, it's hard not to feel inferior.

So when three villains break into the lab where she interns, Kenna refuses to be a victim. She stands her ground. She's not about to let criminals steal the research that will make her extraordinary too.

But in the heat of battle, secrets are spilled and one of the villains saves her life. Twice. Suddenly, everything Kenna thought she knew about good and evil, heroes and villains is upended. And to protect her life and those she loves, she must team up with her sworn enemies on a mission that will redefine what it means to be powerful and powerless...
My Review
Powerless
by
Tera Lynn Childs
My rating:
4 of 5 stars
Did you enjoy Sky High movie then go and start reading this book! And if you haven't then go watch it and definitely read the book.
Heroes are good and Villains the opposite. It's either white or black. But could it be grey? Could heroes be evil?
Kenna don't have any power, she is just an ordinary person. But her world is going to turn upside down when the people she thought to be good and save the world have a secret agenda.
Full action packed which had me devouring the book. And thank goodness I have the arc of second book cuz I'm diving right into it!
Get the book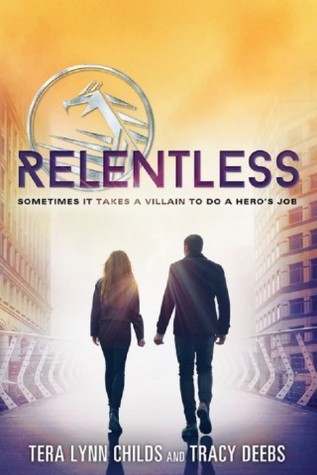 Title: Powerless
Authors: Tera Lynn Childs and Tracy Deebs
Series: The Hero Agenda
Synopsis
Kenna is tired of being lied to—and hunted by the very allies she once trusted. Unearthing the dark secrets of the superhero world has not only endangered her life, now her boyfriend faces execution for crimes he didn't commit and her mother is being held captive in a secret governmental prison.

Kenna is determined to stand up for what's right and save those she loves from unspeakable fates. It's time for the betrayal to end. It's time for the real criminals to face justice.

But the truth is even more terrifying than Kenna could imagine. A conspiracy threatens the fate of heroes, villains, and all of humanity. If Kenna's going to survive, she must draw on her deepest strength: her resilience. Because when Kenna's pushed to the limit, she doesn't break down. She fights back.
My Review


Relentless
by
Tera Lynn Childs
My rating:
4 of 5 stars
****3.5 stars****
This was okay. The first book was so good and I had high expectations but it didn't even matched the first book. I liked it and enjoyed, especially the last part that's why the .5 stars extra. It was good fun read.
I liked Kenna but in this book I didn't connect with her, but I enjoyed it anyhow. Instead of being in the head I was watching how the story pans out from outside which is cool. I guess the obstacles appeared one after other and obviously the group who we readers support where ahead cuz they had powers which made them one step ahead of the enemy team even though they didn't knew much. And that didn't build anticipation for me.
So a little flat but I got to know
(spoiler)
[ her second power. (hide spoiler)]
Overall I enjoyed it and yes hoping the next book is like the first one.
I won the arc in ya scavenger hunt.
View all my reviews
Get the book on
About Tera Lynn Childs
About TeraTera Lynn Childs is the RITA-award-winning and bestselling young adult author of the mythology-based Oh. My. Gods. series, the Forgive My Fins mermaid romances, the kick-butt monster-hunting Sweet Venom trilogy, and the Darkly Fae series. She also writes the City Chicks books and is co-writing the Hero Agenda and Creative HeArts series. Her works have appeared in over a dozen languages and on multiple state library reading lists. She lives in Las Vegas, where she spends her time writing wherever she can find a comfy chair and a steady stream of caffeinated beverages. Lynn Childs